If a website is a building, then a web designer (depending on the number) is its engineer, architect, carpenter, and even the construction worker. Because unless you are an expert in web development, then you will have to hire a web developer to build your website. I wrote an article about the things you should look out for when hiring a web developer here in Nextvation.Com. If you read that or you're already at terms with what you are looking for in a web developer then the last thing you need to do is find one. But where though?
Now, I've considered adding Nextvation in the final spot of the list but I'm afraid that'll just come as shamelessly plugging your own company. So instead, I'm just gonna tell you why hiring us is a wise choice since we're an entire team all for the price of one. Interested? Then give us a call! With that plug aside, here are 5 of the best places where you can hire the best web developer to build your website.
We're starting off with a website that offers the best freelance workers around for a price expected from quality. Codeable only offers aspiring employers the best talent and skill in the market. How? Through a very thorough screening process that tests different aspects of their skills. Only by passing do they get to join the pool of other freelancers available for hire. For employers out there, you are free to search and find the freelancer you're comfortable with.
Remember when I mentioned that the price you're paying reflects the quality of work you're getting? That's because Codeable freelancers are paid at an hourly rate with the prices starting at $60. It really does turn you off a bit but, do remember that you're paying for the best. You can't expect a masterfully built and functional website and pay less than $5 an hour for it.
Like, Codeable, Toptal also screens the freelancers that they put on display. 3%, that's a number of applicants that only make it through to their talent pool according to their website. They test out an applicant's skill in language, skill, and performance reviews. Unlike Codeable, however, Toptal tries to separate itself from its competitors by offering employers a varied choice of freelancers who can be hired for an hourly, part-, or full time.
Another aspect that differentiates Toptal is their team that helps you find the perfect freelancer that you see fit to work for you. If a match is found, the freelancers undergo a trial period to see if their final product satisfies you. If, however, they come up short or you're not satisfied at all, the Toptal team moves on to find you another. You won't even have to pay a cent for the trial period.
When one of the best websites that deal with online publications in web development and design, Smashing Magazine, has their own job section then they are sure to attract some of the best freelancers out there. These freelancers can be hired for either freelance or full-time work.
However, and this is the part where you must worry about, Smashing Jobs does not screen their applicants. There is no registration or application for the freelancers that are on display so whatever skill they might have or any shortcomings they may possibly bring to the table is all on you. For pricing, posting a listing for a freelancer costs $75 while a full-time work can cost $225. The price is hefty and the fact that there is no screening process is worrying but, like I said, a lot of the best applicants tend to pitch their flag in Smashing Jobs.
WordPress is one of the most popular tools for website creation and content management. There is no doubt that a large portion of employers out there looking to build a website is building it using WordPress as their solid foundation. Thus, you're gonna want to prefer freelancers who are professionals in the realm of WordPress. With WPMU DEV, you can browse the number of freelancers, see their portfolios and work experience.
Though hiring is basically following a procedure that is shaped like a straight line, the platform, however, does not handle the payments for the applicants you hired. That mode will be up to you and the freelancer.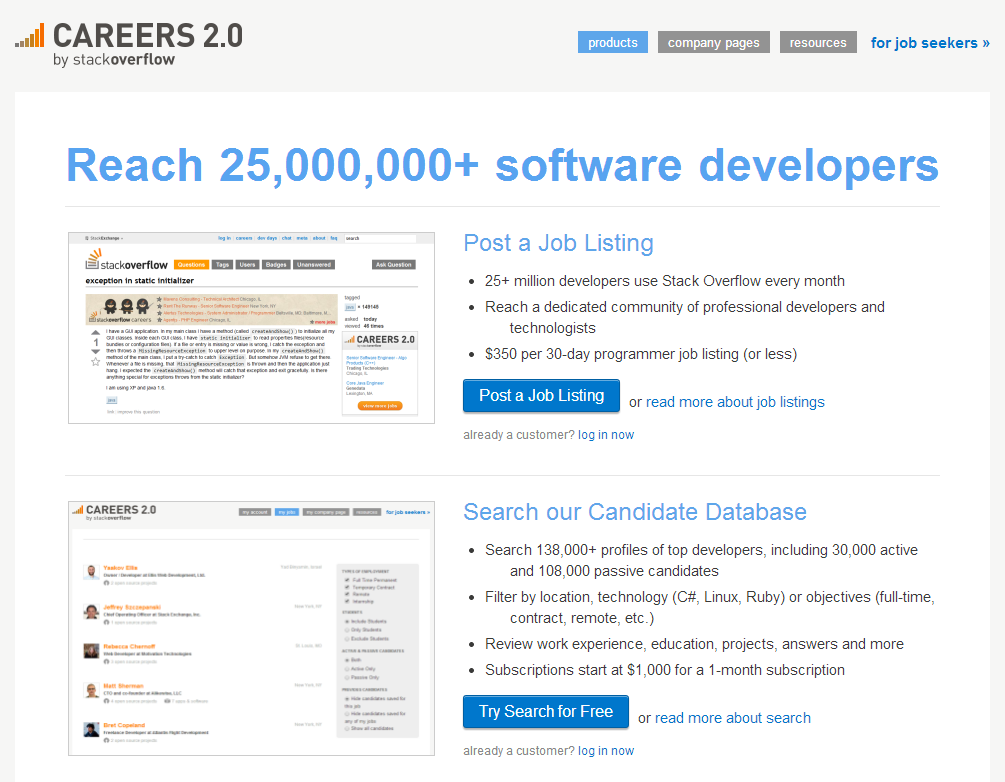 Stack Overflow Careers establishes itself as a website that caters to the larger businesses and enterprises with most of their applicants being up for hire for full-time work. If you're wondering about the quality of work the freelancers have on offer, just know that Stack Overflow serves as a community that most web developers reach out to. Which means that a lot of the best web developers out there will be stopping by and hire out their services.
As for the hiring process, there are no resumes, instead, you'll be presented with the applicant's portfolio and other projects. What better way to find the perfect applicant than to get a good overview of their work experience, right?
If you are indeed an employer who is out looking for a reliable web developer that is both affordable and delivers a final product that shines in work quality, then I strongly suggest you check our services here at Nextvation. We are a team of web developers, graphic designers, content writers, and more, that boast a combined experience of 30 years. We would be happy to give you the website that can help establish your business in the current age of information.
Conclusion
To find the best, you have to look in the right places. Though there is no definitive place for you to find that perfect web developer to build your website. This is why a variety in your choice is required. Don't be afraid to branch out and look for talent in other websites. The effort you put in finding the right people to work for you reflects on the overall product that they produce.