Treat a website like an attention-seeking drama queen. It needs the right amount of audience and spotlight (SEO) for it to thrive and grow. While it's true that a drama queen can exist without the spotlight but then again, what's the point?
If you want your website to flourish. If you want to treat your stats as more of a positive than a negative, then if you understand how to master SEO. But how? How does one even begin? Read a book? No, no one reads books. Instead, you let technology aid you. Not do all of it for you because we're not there yet.
In situations like these, it's probably best to look at yourself as a machinist. And a machinist needs a set of tools. With the right tools in hand, you can help you build your website into a domain fuming with traffic. Here are 15 SEO tools you need for your website.
Let's start off with something free. Google PageSpeed Insights is a free tool made to analyze your website in terms of speed. Speed is important because if a user sees a blank screen for more than three or five seconds, then they're gone. Remember, we live in an age of millennials with short attention spans (sorry).
The tool is a great way of finding out what you're doing right and wrong. In addition, after it shows you what it found, it'll offer guides on how to fix them. It's a great tool to start with.
If you're a brick and mortar business who is now embracing the digital age, then this tool is perfect to see where you're currently standing. Moz Local Listing Score uses fifteen different sources such as Facebook, Google, Foursquare, etc., to find your business's current state. Apart from your current standing, the tool also marks down fixes. Fixes for numerous problems that may crop up in a single search.
If Google PageSpeed Insights dealt with speed this tool deals with the overall structure of your online standing. Make sure and follow the errors or inconsistencies the tool gives you.
Keywords are crucial if you're looking to make rank in Google's search engines. However, finding the right amount of correct keywords require research. Tiring and grueling research. This is where Keyword Tool.io comes in. Simply type in the desired keyword and it gives you 700+ longtail keywords for you to use.
You will need an account for a monthly subscription to get detailed results such as search volumes, difficult, and more. Still, the tool is a great way to aid your SEO endeavors.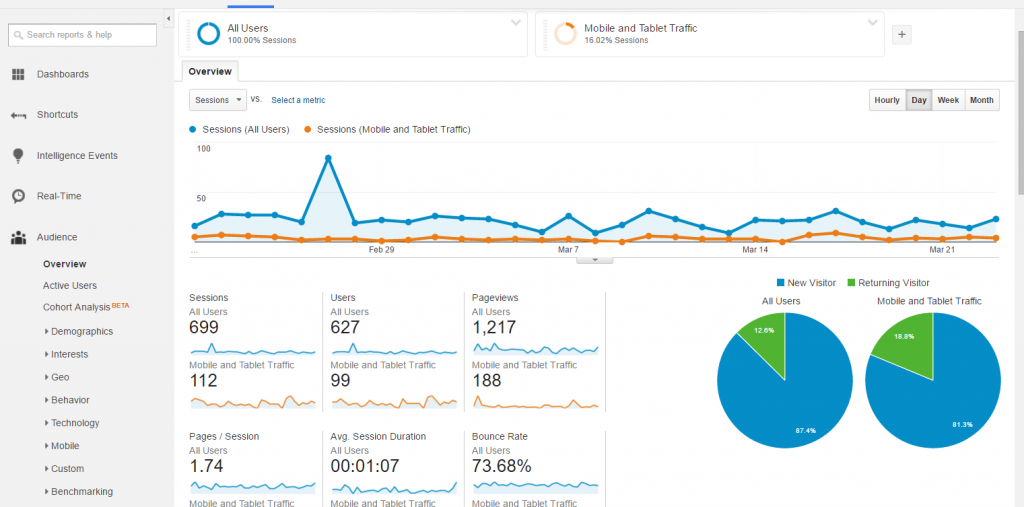 So you've got your keywords. You're ready to start ranking now, right? Kinda. You see, to fully understand your website, you need stats. Not the statistics you find on your own website but stats that actually read your website. Google Analytics does just that and more. It tracks traffic and keywords used by users to land on your website.
It's a great tool to have to help organize your SEO efforts. Knowing which keywords help you gain visibility will aid you to prioritize certain keywords. Doing so forms a structure you can easily follow.
If you're to succeed in your SEO efforts, then it's advised to understand the search engines your in, Google and Bing. The webmaster tools help give you an insight as to how a search engine perceives your site. It lists down reports and errors that are holding your site back not to mention bugs that put in a major red flag.
As I mentioned before, it's always key to diversify your tools. Luckily, the webmaster tools can be installed as a WordPress plugin with either Jetpack or Yoast. In addition, it's free! You can expect no charge or paywalls when using the tools.
Like many of other SEO tools, Open Site Explorer offers a new way of understanding your website on a more technical level. The free version of this tool helps its user by showing a list of links. Links that lead to your website or individual pages on your website. It's probably a handy tool for link research and a backlink checker.
Though one can use the tool for free, there is a paid version of a thirty-day trial. The paid version offers a deeper insight into your link research and shows you more than what free users would normally see.
Keyword research is one thing, but doing so with Google Keyword Planner will greatly aid your website. Research is good, but it helps to know what you're searching for. In short, this tool helps you see what other sites are searching for. Look it as a way to know what your competitors are currently searching for. To top it off, the tool is comprehensive with its reports.
There is a fee and no free version currently exists. However, for your website to flourish you might have to lean towards a small investment. The fee for use is relatively cheap.
Remember the tools above that analyze your website of certain factors? Well, this is them but it wants more! Quicksprout Website Analyzer analyzes your website as a whole. It studies speed, ranking, SEO, tags, links, and so much more. It helps to get a general view of your website and where it currently stands. Only then can you start to prioritize fixing errors or optimizing SEO.
The tool is currently free! Simply go to their website and put in the URL to your website. The tool is definitely a must if you're looking to improve traffic.
There is no such thing as zero competition. For whatever website you're building, niche or not, you will always have that odd website as your competition. In success, sometimes you have to look at your competitor and see what's working for them. Similar Web helps you do this by comparing two websites in terms of stats, traffic, and everything else.
The tool comes in two versions: Free and Premium. Although the latter has more to offer, the former still has the essentials for competitor research.
When dealing with SEO, it's important to remember there are times where heavy traffic is isolated into only one of your pages. SERPs Rank Checker helps reveal the current rank of your website and its individual parts. It's a great tool to see how a keyword is helping your website and it too serves as a tool to rank keywords.
There is a free version but I'd opt for the monthly paid tool as it's more comprehensive and it's relatively cheap especially if you're running a small business.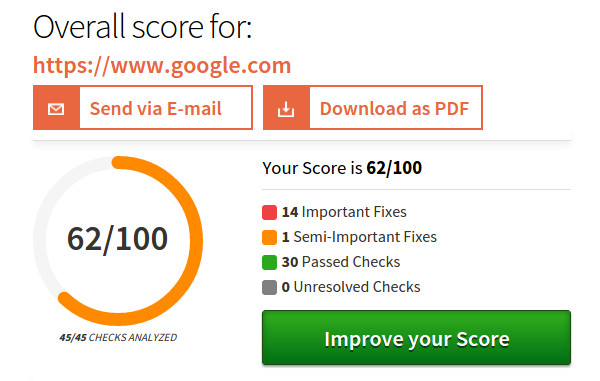 Keywords are sort of a hit and miss subject. There are some keywords that'll get you climbing in the ranks while others won't do anything for you. To find the keywords that work and those that don't, SEO Site Checkup is a helpful tool. It keeps you updated with website tags as well as errors that may have festered on your website.
Though the tool is usable for free, the paid version states that it's faster and offers more research notes and tags for you to see. As with all things, you should try the free version first.
Some of the aforementioned tools have built-in scanners that help search for errors. However, Find Broken Links is a tool dedicated for error-search only. This ensures that whatever effort it has it focuses on cleaning up your website. It notifies of internal and external links that may cause a problem for your website. The tool not only shows the problem but it teaches you how to fix them.
The tool is free, user-friendly, and easy to use. Though the interface can look a bit outdated, what's important is it's showing you what you're looking for.
Blogging is one of the key factors of SEO. It helps bolster your website with the right keywords and it presents itself as a reliable entryway to your main domain. However, with blogging comes the risk of similar content. The last thing you'd want is to get flak for copying a blog you may have never even heard about in the first place. This is what Copyscape aims to avoid. It takes a single page from your website and checks if it's victim to any similar content out there today.
The premium version of the tool offers a feature that may prove useful especially for a blog-heavy website. It offers to show you if an article you wrote is original. This feature is certainly useful for anyone looking to avoid plagiarism.
If you're wondering why such a tool has a very technical name, then know that it has "Google" before it. This tool tackles the technical side of your website. It uses Google's engine to provide the right context for your page. The context that can help you a ton especially if you're dealing with SEO. The does this by using live data and it validates it through that process.
For now, the tool is free and is downright extensive with the information it lays down on your lap. You can either put in the code itself or just paste your website's URL.
Before you say anything, no this is not a text-to-speech generator. It's actually a lot more useful than that. Robot Text Generator creates robots.txt files that can aid you in many ways. It helps keep malware robots out of your site and keeps unwanted search engine spiders from entering certain places on your website you don't want them to go to.
The tool is totally free. No pricing, and no monthly subscription fees. Just a useful tools to aid you in your SEO efforts.
Conclusion
So there you have it, SEO tools that'll help you in keeping your rank high and your errors low. Now, it may be a bit daunting to take it all in at once so I'd advise you start slowly and understand each tool from head to toe. Then simply move on once you're done with the other.