These are the six core values that Nextvation people live by
Kaizen – Constant improvement. This first culture that our company embodies. This applies to the following:
People – We need to make sure that we are improving ourselves every day. We don't need to become the best today, but the idea is to become better than yesterday.
Process – There is nothing fixed in our company. Everything can be improved. If there is something that is useful yesterday but is no longer relevant today, we must remove it.
Product – Every product that is released must be improved over time. The idea is not to build a product that will be abandoned, but to have a product that can be constantly improved upon depending on the situation. Take note that improving a product does not mean adding a new feature, it can also mean removing an existing one that is no longer essential.
We should not build something that is not necessary. Release a product, learn from our customers, and improve it. Anything that is not contributing to the Minimum Viable Product (MVP) is considered a waste.
We need to make sure that our customer service is great. Going the extra mile just to see them smile. The customer here means not only the end users but also the merchants in our platform and other people directly and indirectly involved in using our product(s).
The work we do requires extreme passion. That doesn't mean that we will always be doing exciting things, it also means that no matter how boring the task may be, we will still push forward because we know that it is essential to the bigger picture we are painting. By embodying this we are challenging ourselves each time, and it will be more fun and satisfying for everyone.

Nextvation is a global company. We aim to compete with the leading companies in the industry we are working on. Our mindset must not be limited by geography. We need to train our mind to think globally.
Below are just a few things that we can do:
English – We need to make sure that our mode of communication is English. Fluency does not come overnight, it takes practice. It sure is embarrassing to speak a language you are not fluent in, but by immersing yourself in it you will improve fast. English proficiency promotes global competency.
Travel – Learning the language alone is not enough. We need to perceive and experience ideas from other cultures and the only way to do that is through first-hand experiences. Soon we will be traveling all around the world and learn from other people's point of views about their ideas that we can then integrate into our company.
NO POLITICAL GAMES. Having politics in the company is like having a needle in our soup. It can only harm us before we finish our soup. The only way for everyone to be happy is to be constantly reminded to be respectful of other people's work. We need to assume the best in everyone. This is of paramount importance, which is why it is mentioned last. After all, this company is just a group of people who are constantly creating products and services, so respect should be given to each other.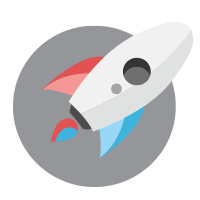 We're Here To Help Your Business Blast Off!
Through Creative Ideas, Innovation & Technology