Transforming ideas into something tangible is a problem that many people experience, especially entrepreneurs who generate ideas constantly and hobbyists who do not have the technological know-how. Most of these ideas sizzle into thin air, not seeing the light of day, and we at Nextvation believe that such a thing is a tragedy that we must eliminate for everyone.
Whether it's an upgrade for your current existing website, an integration of an external service or product, or a brand new product or service that you wish to unveil to the world, we are at your disposal in making them into reality. With our team of highly trained professionals, we can solve the problems you are experiencing, build you new products and services that you are dreaming of, and basically anything that you need to be done.
Our bespoke web design and development solution have helped multimillion dollar companies achieve their goals on the Internet – we are confident that our team of experts can assist you in your needs.
If you are…
Experiencing a problem on your old website and you are no longer able to contact your web developer

Stuck for days looking for a solution to your problem
Planning to integrate an external service to your website like Facebook, Instagram, Twitter, and other systems' APIs
Looking to add additional features to your existing site

Overwhelmed with many projects on hand and want to outsource without sacrificing the quality

Having an epiphany and want to develop your idea
We are experts with proven track record and we can help you using…
PHP
Database Query
Laravel and other open Frameworks
Javascript and Jquery
CSS and Bootstrap
HTML
At the affordable price of…
Still not convinced? Here are the samples of our work…
Made up your mind? Great! Here's how it works:
Click  and send us a message regarding your problem or idea – the more details you share with us, the more accurate our response will be.

We will get back to you with a quotation.

Once we finally agree on the specifics of the project and you are ready to commit, the project will commence right after you deposit 50% of the development fee if it is under 200 hours, or 40% if it is 200 hours and above. Payments are made through wire transfer or PayPal (which can also process credit card payments).

We will create a Basecamp space regarding your project where you can monitor all updates any time you want, plus updates via email if you wish.

Once the project is completed, the turnover of the code and fixes will be made after the final payment is made.

Unlike other agencies, we require reviews from our clients (good or bad) so that we can use them to improve our services.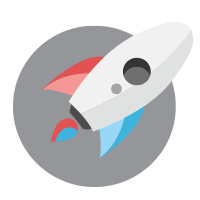 We're Here To Help Your Business Blast Off!
Through Creative Ideas, Innovation & Technology