Social media has become one of if not, the biggest platform for communication around the world. To think that only fifteen years ago, social media was this odd and obscure thing that came out from the bowels of the internet. And now it's a juggernaut in bringing people together, effectively killing off its older and more inferior brethren. It's no wonder that various top social media marketing tools exist today that continue to aid business. 
With that said, marketers, today use social media as a channel for their marketing purposes. Don't believe me? Spend thirty-second scrolling down through your Facebook newsfeed and count how many ads you see. The sheer amount of users that'll see a single ad post for basically no charge at all will help you realize the marketing power of the platform.
Now, it's not that easy. You can't live off the power of social media marketing alone with just you and your browser. It actually takes a few more tools before a startup can fully utilize the power of social media. This is what the article is about. I'll be giving you the 15 top social media marketing tools you definitely need. Do note, however, that some of these tools may require an initial investment before use. By that I mean you need to pay for it. Whether you want to pay for it or not is totally up to you.
Let's start off with a WordPress plugin you may be interested in if you're using social media to market your articles or blogs. It helps to know if a certain ad post of yours at whatever social media site is currently TRENDING. This is important because you're gonna want to know what kind of ads stick and those that fall flat on their faces. With that said, you cannot mention the top social media marketing tools without hearing of Social Metric Pro. 
Social Metric Pro helps you achieve this. It tracks your current status in social media. Whether you're trending or simply getting by. All the features it gives you make social media tracking a breeze. No longer should you tire yourself with near-endless and unnecessary work regarding the platform. Social Metric Pro introduces user-friendly UI and other features to make your life a lot easier.
One thing that really bothers marketers with social media marketing is the number of social media sites they need to be on. Facebook, Twitter, Instagram, LinkedIn, Google+, and more. It's tiring work for anyone to work on five to six different website in order to optimize their social media efforts. It is this very problem that made Buffer one of the best tools out there today. It's probably one of the reasons why it's part of the top social media marketing tools. 
Basically, Buffer gives you the ability to manage all your social media account in one place. You're able to publish or schedule posts from the tool itself without having to switch pages or tabs ever again. In addition, the tool also tracks content performance as it gives you an insight as to how your efforts are currently holding up.
So we've covered tools that help track social media content and manage social accounts. But what makes social media so good? The people. And when you're sharing your content through social media, it'll get attention. Now people being people will leave comments be it questions or compliments (hopefully.) To ensure that people remain happy with your content you need engagement.
Sprout Social gives you the ability to easily access your social media account in one location, much like Buffer. However, instead of tracking content performance, the tool tracks engagement. This ensures that you're always tracking the comments in your social media thus leading to happier customers.
No one wants to visit five to six social media account to post the same thing over and over. It's not only training but it's a tick in your "Will He Snap o Meter." What you need is a tool that requires you write the post only once and be done with it. Luckily, there is a tool that lets you do just that.
Hootsuite saves you precious time and effort by funneling all your posts into one tool. The tool only needs your post and it publishes it on all your social media accounts. HootSuite is free if only used by one user with three profiles; anything more and you're going to have to pay for it.
When talking about social media marketing, you will be thinking about the content you're sharing. Now, this stems back to content marketing since that's a strategy that involves making content for your users.
Buzzsumo helps you think about that very content. It gives you information on hot topics currently making its way throughout the web and it pulls up niche content that you might be interested in. I've talked about Buzzsumo before in an article talking about content marketing. Click here if you're interested.
"Who names their tool IFTTT, anyway?" Well, it's an acronym so it's bound to sound strange when spoken that way. But you know what's not strange? The functionalities that IFTT gives you. The tool (also known as If This Then That) makes inter-app communication a thing. Yes, finally can you let Alexa use your social media and more.
This app is great if you're using certain features from one tool and would like to send it to another. IFTTT makes this possible and even offers more. As long as you're dealing with an app or an outlet for an app, then the tool will help you. Don't forget about IFTTT when you're looking for the top social medai marketing tools in the market today. 
As someone who's worked with Facebook marketing, I can only say one thing, Facebook's scheduling feature is lackluster and limiting. It lacks the feature it needs that most social media marketers are looking for. If you are gonna do organize your content posts efficiently, then you're gonna need a tool that aids you.
Post Planner is a plugin that adds more robust features to Facebook's scheduling features. It's able to post 10-times a day on Facebook or Twitter from different profiles. If you are planning on using Facebook as your main social media marketing platform, then Post Planner is something you might be interested.
Contrary to uneducated belief, social media marketing is not that simple. It takes careful research and timing to publish a post that garners attention and followers. What if there was a way to avoid this? To make life a bit easier for social media marketers. There is and it's Social Clout, a proud member of the top social media marketing tools.
Social Clout helps analyze, read, and track your social media efforts. It aids you in increasing post engagement and keeping a steady flow of it. Essentially, the tool helps your marketing efforts more effective than they currently are. It optimizes post reach and more ensuring that your efforts aren't going to waste.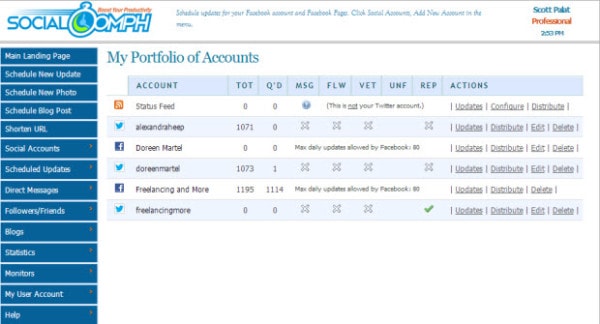 We've talked about tools that help you publish post all across your profiles. We talked about tools that help manage account and profile performance. So what if you needed to update certain posts on all of your social media accounts? Social Oomph is your answer.
It makes uploading updates a lot easier as it targets different social media sites. In addition, it also analyzes content performance and activity. It's a handy tool to have when you've been marketing through social media for a very long time.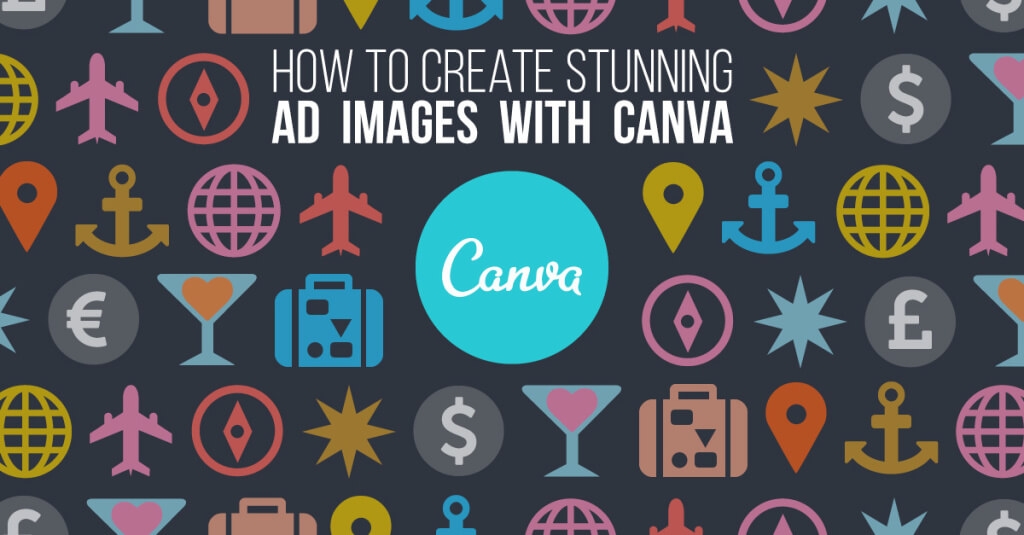 So what happens if your social media followers take an interest in your content? Well, you help further their engagement with optimized graphics and text from Canva.
Canva offers a ton of templates and other resources that help bolster social media efforts. If you're wondering why this section is so short then know that I've talked about the tool in regards to content marketing. Click here to learn more.
Social media marketing can be a bit fickle at times. It only spikes when new content is introduced and it falls off eventually. To counter this, marketers today are hard at work looking for a solution. They tend to grind and schedule posts to an upwards of ten times a day. However, why work hard when you can work smart, right?
MeetEdgar is essentially a virtual assistant made to improve social media activity. The tool is especially helpful for those that already have a wide catalog of previous work. This gives the tool content to work with ensuring that engagement spikes are easier to manage and meet. It may not sound like it has what it takes to be part of the top social media marketing tools, but it delivers. 
Social media marketing sometimes involves efficient business planning. To do so, you're gonna need more than your wits. You need to be informed of all topics regarding business or have close ties to those that do. TO this, you need a tool that blends social media marketing and business.
This is what Oktopost is all about. It focuses on the business side of social media marketing. Like many of the tools above, it serves as a social media management tool and tracker. Being able to track all the right topics and content for you whilst keeping yours performing efficiently.
If you've ever heard of research marketing, then Tagboard is probably for you. One of the best about social media is that you're not the only sharing content. This means that Facebook or Twitter might lead you to content that helps you improve your own. And you know why Tagboard is part of the top social media marketing tools today? Because it helps at a level of paramount.
Tagboard is built to focus on the research aspect of social media and tracks down relevant content and niche topics for you. One must develop content and skill if you want to stay on top of your game.
When using Twitter, you should be mindful of the character limit. When using Facebook, you should be mindful of what users see first that interests them. This builds up to a test in the proper use of space and wording. Every character counts especially if you're sending a link to whatever content you have.
Bitly is a tool that helps shorten any and all URL that you're working with. Save up precious space and characters by giving your URL a custom look and length.
Finally comes social media sites that mostly deal with the visual side of marketing. Pinterest and Instagram remain the top dogs for visual stimuli which makes them the perfect platform for visual marketing.
Tailwind helps organize and coordinate posts for these two social media sites. It schedules posts, tracks relevant content, improves post reach and more. If your business revolves around the visual aspect such as jewelry, automobiles, or maybe even photography, then this tool is for you. It being on a list of the top social media marketing tools should say a lot about what it can do. 
Conclusion
In closing, social media marketing, like any other approach, can be made a bit easier if given the right amount and the right kind of tools for the job. These top social media marketing tools should give you the right catalog to choose from. Also, click here to learn more about the tools for content marketing. Moreover, click here to learn how social media marketing helps your business.