Picture this: you have your own hotel or restaurant and you decide to get with the times and include the internet in advertising your business. You go on the bigger social media sites like Facebook, Twitter, and Instagram and make an account or page for said business. Then a friend or a business partner of yours suggests you get your own website. Now you proceed to ask the same question as a lot of business owners do "Why?"
Why should you get your own website? You already have social media, right? Well, it's not that simple to say exactly since both mediums have their own pros and cons. Since we are talking about a website it's better if we explore the pros and cons of the latter.
So What's Good?
First thing's first, a website grants you control on almost every aspect. From the look of the tabs that appear, and just the overall functions that are available to anyone who visits your website. You get to decide what they see once they enter, what products or services that are on offer when they scroll down, etc. It's all about you and your taste when it comes to owning a website.
Facebook or any other social media, however, does not follow you. It's actually the other way around as you have to follow the rules and restrictions that it has. It's limited and all notion of control is basically thrown out the window.
Secondly, a website simply offers more credibility for you and your company. A website costs money, regardless of how much it costs it shows that you're serious. It might seem insignificant now but to the eyes of potential customers, having a website is a bit of a big deal.
Limiting your business inside social media might come off as cheap. There are an endless amount of businesses out there that have a Facebook page but only a very small percentage of those have their own website. A small business with a website will make it stand out.
Also, with having your own website you are its sole owner. It's like having your own house, you decide which sofa goes in your living room, you get to move furniture around to your liking, etc. It's up to you because it's yours.
Social media, however, is a bit different. In this case, you're living in someone else's house. Sure you get to bring your stuff over and maybe beautify the room you're sleeping in but that's about it. Everything else is under strict supervision by the owner.
Here's the bad.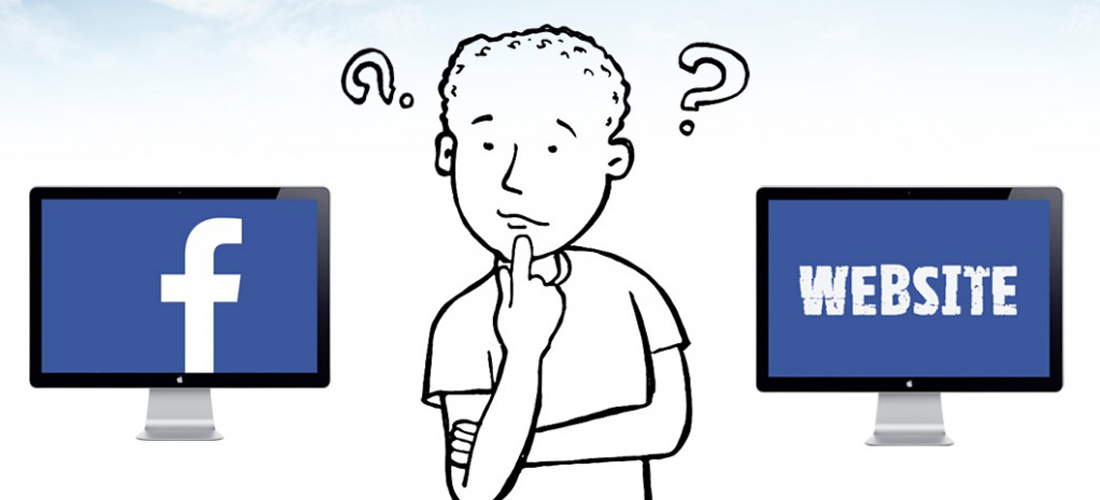 The first con is that having a website costs money. Firstly, you have to purchase a domain and website hosting and keep on paying because it is, after all, a recurring thing. Now, unless you dabble in web development, you have to hire a web designer to build, design, and occasionally update your website. Lastly, having a website means you're on your own when it comes to Google search ranking. You will have to learn and understand the basics of SEO if you actually want traffic on your website.
Having a page on Facebook, however, is much easier because everything is already there for you to use. It's free because it's Facebook, easy to use because you didn't to be a tech expert to set it up, and, of course, it ranks high on Google because it already belongs to a pretty big website.
Then there's the fact that you are able to reach a lot more people if your business is on Facebook or any other form of social media. Imagine this to be like a store or a shop in a mall, the people who frequent the mall will see your business. And there are a lot of people in a mall.
With your website, you're basically setting up shop somewhere else. You have to work hard on getting those people to your website which means you have to know the basics of HOW you get by doing it.
So What Are You Supposed To Do?
Personally, you don't have to choose between the two media if you view them differently by their uses and functions. Facebook shouldn't be your business's headquarters, instead, it should be a marketing tool. It should be used to lead people into your website. Use it to post announcements, updates, etc. Understand that a website such as Facebook draws in people by the millions and, as a business owner, use this to your advantage.
It might be a good idea to just set up shop on Facebook, but in the long run, this will hurt most businesses. Be smart, try to see it for what it is and how it can aid your business and not simply on the short-term benefits that you gain.